Trusted Crating Company in Northern Virginia
EXPERT CRATING SOLUTIONS
Whether your valuables are heavy and oversized, of high-value, of high sentimental value, or extremely fragile, Craters & Freighters of Northern Virginia offers crating and packaging solutions tailored specifically to meet their needs. While many packing and shipping companies in Northern Virginia have size and weight restrictions, at Craters & Freighters, we don't. We'll crate and ship virtually anything virtually anywhere. If it's a challenge, we can handle it. Did we mention our A+ rating with the Better Business Bureau? When you crate and ship with us you know you're working with a company focused on ensuring your total satisfaction.
The custom crating and packaging specialists in our Northern Virginia location will expertly design and build a crate for any item to ensure its safe arrival at its final destination. We will ensure entry into any country by keeping up to code and meeting all requirements so you never need to worry about efficiency. 
Our crates are built from the inside out, recognizing that the inner support is vital to its effectiveness. After determining the item's weight, dimensions, value, fragility, and destination, the perfect tailored wooden crate will be engineered for your unique item.
Custom Crating with Care
Our crating and shipping company never uses a one-size-fits-all crating approach. We're leaders in the industry because we know that the more closely a crate matches the size and shape of an item, the more secure that item will be.
That's why we create the perfect crate ourselves, in house, or at your location. We also modify our blocking, bracing, and padding schemes for every individual item to ensure the utmost in protection. Doing this is vital to the successful transportation of your belongings. We are a team of creators who bring precision and ingenuity to every crate we design with complete protection the ultimate goal.
We will meet any requirements and needs you have, as well as those of the industry to ensure peace of mind and safe passage.
Our customers will tell you that our precise attention to detail is what allows their items to get to their final destination safely and unharmed.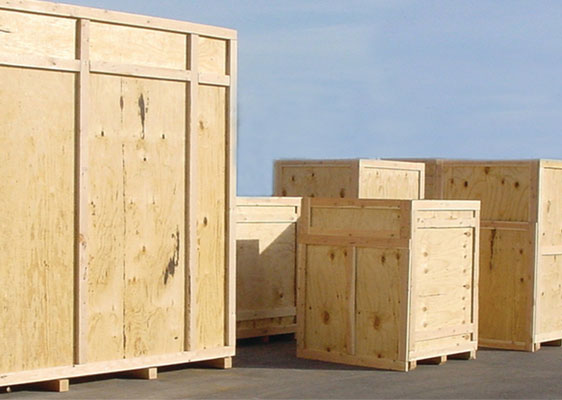 Protection Where It Matters Most
It's imperative to package your valuables correctly because the shipping stream is no place for poorly packaged items. Shipping conditions are unpredictable and often challenging, and the handling of crates can be rough. If you want your belongings to arrive undamaged, it takes the kind of novel expertise that Crater & Freighters Northern Virginia offers. 
We have decades of insight and experience behind us, our crating and packaging team knows how to perfectly build a wooden crate for even the most fragile, oversized, or hazardous items.
Call us at 703-796-0180 to learn more about your services, including:
Custom Wood Crates
If you're in need of superior support for your heavy, bulky, oversized items, we're your custom wooden crating company in Northern Virginia. We have crating solutions for any item and we won't back away from a challenge. 
Call us today to discuss your custom crating and shipping project.
We Offer On-Site Packaging and Crating Services
We understand that sometimes you can't get your super heavy or hazardous items to us. No problem, we'll come to you. We have everything we need to create the perfect custom crate for your item at your location. Your custom crate will be just as effective, with the appropriate cushioning and stabilizers, as it would be if it were built at our facility. 
Want a tailored crate built at our warehouse and dropped off at your doorstep? We can do that too. Call us for details. 
Any Crating and Packing Need Covered
Craters & Freighters are industry leaders with years of knowledge to support us.  We strive for your confidence and will do whatever we can to achieve it. Your crating, packing, and shipping strategy will be customized for you, your goals, and your individual items. 
Our Northern Virginia location custom wood crating and shipping services are top-of-the-line and our team of logistics and customer support experts is unmatched.  Call us today and let's get your shipment moving.
Get a fast, free, no-obligation cost estimate from Craters & Freighters Northern Virginia.
Provide some information on your goals and needs and we'll get back to you straight away with a number you can use in your planning and budgeting.