Comprehensive Freight Shipping Services in Northern Virginia
Full Range of Logistics Services
We can ship your valuable items from any point of origin to any destination. When you use our comprehensive U.S. domestic shipping and international shipping services, you can focus on other tasks confident that we are ensuring everything goes smoothly. Plus, Craters & Freighters Northern Virginia has an A+ rating with the Better Business Bureau, so you know you're working with a crating and shipping company focused on ensuring complete satisfaction.
If you're ready to start your safe, secure, and efficient crating and shipping process, it's as easy as 1-2-3.
Step 1: Call us and let's go over the details of your custom crating and shipping needs.

Step 2: We'll send you our professional and recommended approach to your individual shipping project with a quote.
Step 3: After we all agree to the terms, our Northern Virginia team of freight specialists start your custom packaging and shipping process.
Shipping Service Options
What is the best way to get your items where they need to go? We work with you to find the ideal solution out of the many options available. That includes how your shipment is crated and transported, as well as the timing of pickup and delivery.
We treat every engagement like it is our only engagement. We have found that that is the best way to ensure your valuables make their journey safely, securely, and cost-effectively.
And if any issues arise, we address them promptly and fully to make sure your shipment stays on track from start to finish.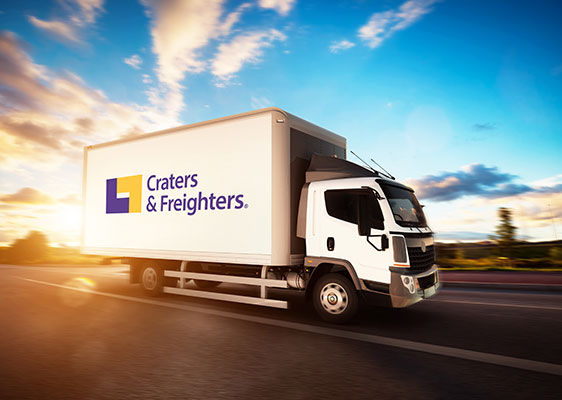 Why Ship With Us?
If you want a comprehensive, logistically advantageous, and high-quality crating and shipping company in Northern Virginia- our Craters & Freighters is that… and more.  
We offer years of experience and a reputation that goes unmatched in the industry.  Our customers are always guaranteed the service and expertise their very unique and valuable shipping project is entitled to.
We will work tirelessly on your custom crating and freight shipping project, stopping at nothing to ensure the secure, safe arrival of your items, whether they're traveling domestically or internationally and no matter the size.  We welcome the most challenging shipping jobs: hazardous, oversized, valuable, collectible, if you have it, we can successfully manage its packing, crating, and shipping from start to finish.
Craters & Freighters Northern Virginia is the ultimate packing and freight shipping company in the area, handling all of your logistic services and providing top-of-the-line customer support throughout your entire shipping process.
Because our customers are varied, their shipping needs are varied, which is why our team is extensively trained and properly experienced when handling the most precious, sensitive, or fragile items, always keeping safety at the forefront. 
Craters & Freighters is proud to be known around the world for our diligence and reliability in supporting any kind of commercial, residential, domestic, or international freight shipping service, as well as our exceptional crating and packing services.
We Ship Anything & Everything
Large, heavy, oddly shaped, or fragile items do not intimidate us. There is not much we have not shipped. In fact, we look forward to the kinds of challenges that other providers walk away from. If you're wondering if our Northern Virginia freight company is right for you, the answer in all certainty is yes. Call us at 703-796-0180 to learn more about our full array of shipping services.
Craters & Freighters Northern Virginia is a team of custom engineering, custom packaging, and custom shipping experts.  We understand the great value of your items and will never make compromises when it comes to the safe, secure transport of them.
We treat every unique freight packing and shipping job with dedication, respect, and the individualized precision it needs to fulfill its safe arrival at the final destination, no matter the size.  We ensure that you and your belongings are treated with professionalism and courtesy from the start of your shipping process to the end of it.
We'd love the opportunity to prove to you that we are the only Northern Virginia shipping company you need for your domestic shipping, international shipping, air freight or ocean freight shipping, cargo shipping, white-glove delivery, residential pick-up, custom crating, or any other packing or shipping service you need.   
If you'd like more information about why you should choose our Northern Virginia custom crating and shipping company, read about us and learn all about who we are and where we come from, look at some of our reviews by our discerning clientele, and get acquainted with our sustainability efforts and projects.
When looking for a crating and freighting service in the Northern Virginia area, you have choices, but we know that if you work with us, you're working with an unmatched logistics team who has the service and the experience you're looking for.  A team that truly provides the whole package, no matter the size of your packing, crating, or shipping project.  Call us today and let's get started. Proudly serving Arlington, Ashburn, and Reston, Virginia for over 25 years.
Get a fast, free, no-obligation cost estimate from Craters & Freighters Northern Virginia.
Provide some information on your goals and needs and we'll get back to you straight away with a number you can use in your planning and budgeting.